MAH

THE WORLD NEEDS YOU

The Apocalypser has been activated. Turn it off before it brings Earth to an end.

WHAT IS THIS?
MAH is an arcade game which brings you frantic, immersive, rich, and very original gameplay.

Your objective is to stop the Apocalypser's 90 minutes countdown.
You are obstructed by the ApocalypShield, a software system
made of 24 security layers and numerous virtual guards.
You operate a hacking tool called Peekpoker.

Get ready to live and experience that will never cease to challenge and amaze you!



Minimum system requirements:
C64 or C128 in C64 mode, 1541/1571 Floppy

Also compatible with:
1541 Ultimate, SD2IEC, Joystick
This game is PAL only!




Credits:
Concept/code/Graphics/Music/DOCS/Artwork: Simone Bevilacqua
Disk Loader: Lasse Öörni
Beta Test: Davide Allegra / John Scolieri / Roy Fielding / Vincenzo Mainolfi
Feedback: Antonello Capuano / Biagio Petruccelli / Fabio Baleani / Francesco Miceli / Guido Fasciano / James Monkman / Raoul Scerra / Valentino Conti

Gallery: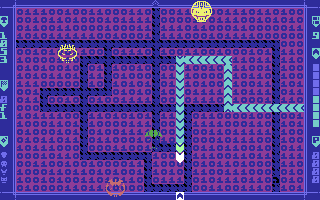 Features:

original, deep, ever-evolving gameplay
24 layers divided in 2 to 8 (sub)phases, each with distinctive mechanics
colorful hires graphics
138 different enemies
dynamic context-driver music
10 tunes + 7 ditties
hiscores saving
stylish introduction and ending
comprehensive documentation on disk and with reference cards
Videos: