Ice Guys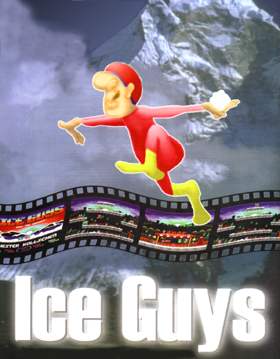 Ice Guys is a cute platform jump'n'run by Protovision for 1 or 2 players simultaneously. What's more, the game features nice multicolor graphics and superb digisynth music.

What is Ice Guys all about? The story so far: During the last, snow-rich winter, from some unknown location lots of little, mean monsters came and decided to kidnap some snowmen! And so, lots of these beloved creatures disappeared over night from gardens, sidewalks and parks, leaving big holes in the beautiful winter landscape. Two former Antarctic researchers, which are now retired and have opened an ice café, can't accept this impertinence by any means. They work out a plan and decide to fight against the nasty little monsters, to let the snowmen return to freedom.

Ice Guys features a unique game concept, Bubble Bobble could be a named as a far relative. The objective is to throw snowballs at the little unfriendly beasts, so that these get stuck in an avalanche. You then can push this avalanche, it will roll down and hit further monsters - but be careful, as you probably don't want to hit your team mate or even become a victim of your own avalanche! In the beginning the enemies can be defeated quite easily, so you can make yourself familiar with the game. But soon it will become harder and fighting the monsters won't be that smooth!


Ordering the game:
Digital Download
Minimum system requirements:
C64 or C128 in C64 mode, 1541/1571 Floppy, 1 or 2 Joysticks.

Also compatible with:
1541 Ultimate.
This game is PAL only!

Download:

A demo version of Ice Guys is available! Spread the demo as much as you can and like. Have fun with it!


There are four worlds in total with each one having an own background graphic using the multicolor bitmap mode of your Commodore 64. Every world is divided into 8 stages. The behavior of the different kinds of monsters is very variable - some are relatively harmless, while others can really be aggressive when they feel disturbed by your attacks! So agility and fast response are required. By well directed kicking the avalanches you can make additional bonus symbols appear, which can help you either at once or at the end of the level. There are more than 10 extras which you can use in many different ways. But now let's take a look at the screenshots!
Ice Guys offers a number of possibilities to proceed in the game: Next to lots of extras you can also collect some special symbols which lead the player into a bonus game. It consists of a turbo sledge race (in 2 player mode of course with both players at the same time) in which you should collect as much ice as you can, as for 10 of them you are granted a bonus life, with which you even can get a dropped out second player back into the game! Also the music in Ice Guys is high above the average and the hot rhythms motivate you to play. Next to finest SID music the game features two real digisynth pieces a la Chris Hülsbeck or Jeroen Tel.

Overall Ice Guys is a game you shouldn't miss - no matter if one or two players, great atmosphere and fun are guaranteed!
Credits:
CODE: Chester Kollschen
GRAPHICS: Chester Kollschen
MUSIC: Matthias Deutsch