Micromys V3

Micromys originated as a mouse adapter to connect PS/2 mice from PC to the C64. individual Computers developed it further and equipped it with additional features. The new version is called Micromys V3, and as well as the C64 it can be used with other systems.


Support:
BIOS/ROM Version: n/a
Manual: www.micromys.de
Developer info: www.micromys.de

FAQ:
Q: I'd like to use my optical mouse in joystick mode. However, this doesn't seem to work.
A: Today's optical mice are doing a self-test on power-up and do not pass on a mouse button that is pressed during power-on. This will probably prevent many mouse types from being used as a joystick with Micromys V3. Since a mouse is not a good joystick replacement anyway, we don't think that this is a major drawback. For the best gaming feeling, we recommend a Competition Pro Retro joystick.

Q: Can I use the Micromys V3 PS2 mouse adapter for using a PS/2 mouse on an MSX computer and if so, how?
A: The MSX mouse seems to be using a totally different protocol that is NOT supported by Micromys V3. It can only confirmed that it could work for joystick emulation mode. In essence, you will only be able to use the mouse as a joystick-replacement, but not like a proportional mouse.


There is a lot of software available:

Protovision games: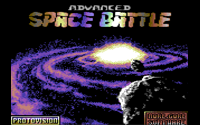 ASB by Jan Boettcher stands for long, turn-based space strategy contest for 1 to 4 players. Who builds the biggest interplanetary empire and prevails over the other players and the aggressive mutants?

More Info: www.protovision.games
Ordering the game: Digital download



Crazy News by Stefan Kluge is only available in german language.

More Info: www.protovision.games
Ordering the game: Digital download


More Games:
Please note that the downloads are only legal when you own the respective original. We can not provide you with links to some of these games, as the copyright is still hold by the programmer/company.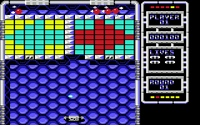 Arkanoid II - Revenge of Doh by Imagine.

More Info: www.zzap64.co.uk
Download: n/a


Lemmings by Psygnosis.

More Info: www.zzap64.co.uk
Download: n/a


Lords of Doom by Starbyte Software.

More Info: n/a
Download: n/a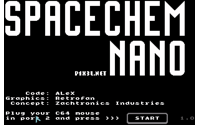 SpaceChem Nano by P1X3L.net. The player assembles molecules in a reactor. It is based on the PC/Mac/Linux/iOS/Android game SpaceChem.

More Info: p1x3l.net
Download: csdb.dk


Space Lords (Centaurus) by P1X3L.net is somewhat similar to Breakout for 4 players, and is based on the 1980 arcade classic Warlords.

More Info: p1x3l.net
Download/Ordering the game: rgcd.co.uk


Applications:
Keep in mind: Use at your own risk! We are not responsible for damages caused by the use of programs/demos/tools/plugins listed below. The listed applications have not been developed by Protovision or on its behalf. There is no business relationship between Protovision and the authors. In the case of problems with one of the listed applications contact the respective programmer.


Amica Paint by Oliver Stiller is a C64 paint program.

More Info: n/a
Download: n/a


Contiki by Adam Dunkels is an operating system that offers many features in very small space: A TCP/IP stack, a web browser, a web server, a VNC-client and of course a graphical user interface. To make use of all features of Contiki, an intranet with router should be available.

More Info: n/a
Download: csdb.dk


FunkPaint by the Singular crew is an extensive multi-format picture editor for HiRes/multicolor/DTV pictures.

More Info: singularcrew.hu
Download: csdb.dk


GEOS 64 2.0 is an operating system with a graphical user interface. The download is free if you don't redistribute or sell GEOS.

More Info: n/a
Download: n/a


GoDot by Arndt Dettke is an C64 Image Processing System. It is continuously being improved.

More Info: www.godot64.de
Download: www.godot64.de


MSSIAH by 8bit ventures is a MIDI cartridge for the Commodore 64. MSSIAH is short for MIDI SID Software Integrated Applications and Hardware and means that the cartridge contains both software and hardware to midify the C64.

More Info: mssiah.com
Download: n/a


Pagefox by Scanntronik is a DTP program. It has been released on cartridge only.

More Info: www.c64-wiki.de (only in German language)
Download: n/a


Prophet64 by 8bit ventures is a hardware cartridge for the Commodore 64 with four music applications. The Prophet64 has been discontinued and is now replaced with the fully MIDI compatible MSSIAH Cartridge.

More Info: n/a
Download: n/a