Stroke World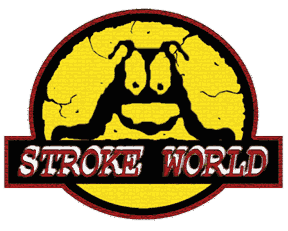 Mr. Universum was the hero of the galaxy until a bad alien ensured that he decreased some kilos.
The world and the whole universe were in sweet harmony. Mr. Universum, the uncrowned king and hero of the universe provided for security and the peace for all the peoples in the galaxy. He already struck many glorious battles, triumphed in many fights. Only with one nature our hero got along never completely: with the little green muscle eater. Now and then, always exactly then, if Mr. Universum counted to few on it, this small poison dwarf emerged - in order to make for the hero hell hot, so far however without success. Until someday...


Minimum system requirements:
C64 or C128 in C64 mode, 1541/1571 Floppy, Joystick.

Also compatible with:
1541 Ultimate, SD2IEC, uIEC/SD, CMD SuperCPU with SuperRAM card.
This game is available as PAL or NTSC version!

Download:

Protovision has released this game as freeware! This means that you can download it here at no cost and completely legal. The game is also available as an NTSC version here. Please notice this version is NTSC only!!


Stroke World consists of five worlds, each one is divided into five sections. In each world a new graphic set expects you. To leave a section, you have to kill all creatures on the screen and run to a little signpost to enter the next screen. At the end of each world you will get a password, so you can re-enter that world at every time by typing in this password in the main menu. After you have fight through all the levels there is a really big endboss waiting for you. Can you destroy him?