8 Bit Civilizations (working title)



Wikipedia states:
"Civilization is a global strategy game released 1991 by MicroProse under the direction of Sid Meier, who weighs as legendary within the industry. It is one of the most popular and most successful games of all times. The player has the task to guide a tribe from the New Stone Age through the history of mankind up to the present and to the colonization of a new planet. Civilization is considered the most important game in the global strategy genre."
(translated from German Wikipedia)

We all love Civilization. But it had a considerable flaw.
It is a game of the 16-Bit era and made it to a Commodore (Amiga), but not to the C64. We cannot tolerate this.

With "8 Bit Civilizations" (working title),
Fabian Hertel presents an impressive fan remake of the classic for the Commodore 64.

A playable demo version is available as a download, of course at no cost.

Please send in bug reports (including a save of your game!) and other feedback to: 8bitciv_at_gmail.com



Development status:
In development


Credits:
Coder: Fabian Hertel
Graphics: Fabian Hertel, Gergely Sinkó, Tim Jakob Chen-Voos


Gallery: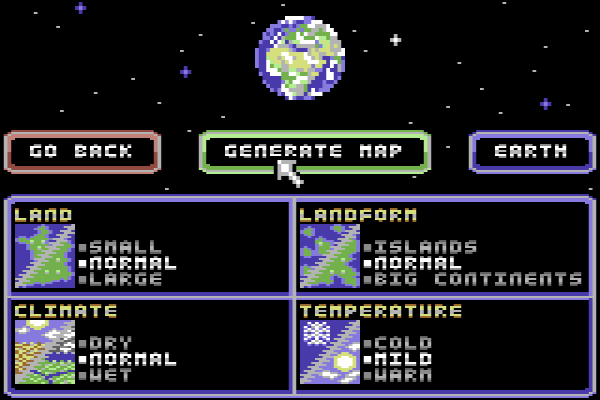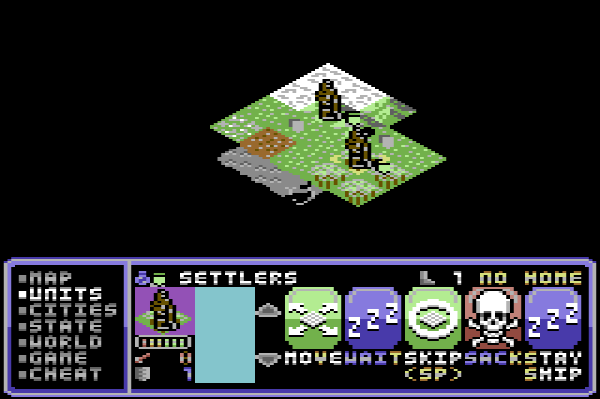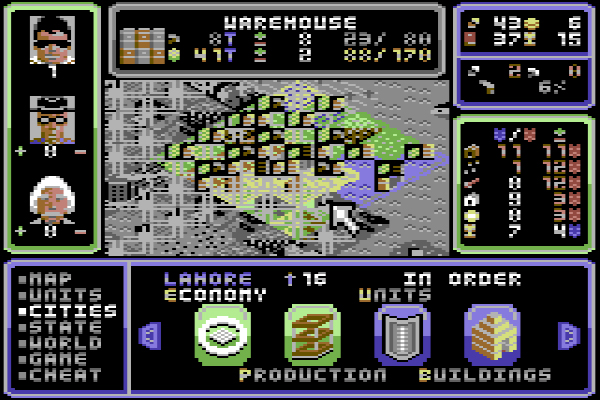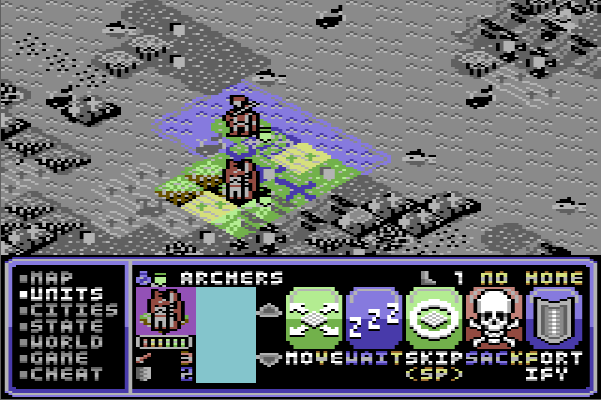 Features:

The game is playable from the beginning of mankind to the end of time!
Classical units are included and work properly, advances can be discovered, and wars can be fought.
You can choose one out of 15 tribes or customize your own tribe.
There are up to 3 computer controlled tribes
Barbarians can be activated
Five levels of difficulty
Custom game maps can be generated based on selections on land size, shape, and climate
Isometric view
Games can be saved or loaded
Compatible with all common drives
SuperCPU compatible
Keyboard, joystick and mouse control (port 2) supported

Missing Features:

Diplomacy features are very limited (e.g. no audiences)
No launching of space ships (they can be built, also by enemies, but they cannot launch)
A couple of informational screens (e.g. game statistics or infos for wonders) and the final evaluation screen are not ready
No ingame sound
OK, enough talk. Grab your free copy of the demo now and give feedback!
Download:
A playable demo version is
available as a download
, of course at no cost. Please send in bug reports (including a save of your game!) and other feedback to: 8bitciv_at_gmail.com

Short notice on game controls:

Most of the actions have a keyboard character highlighted, indicating that the action can be triggered by pressing the respective key.
A turn always starts in move mode. You can leave the move mode via V or a click on your joy/mouse. Then, all visible actions can also be selected by joy/mouse.
a click on an empty field shows status information on your civilization as a whole.
a long click on a field switches into the field info mode. With another long click you get back to normal mode.
A double click on a unit activates/selects the unit (if possible), a double click on a city opens the city.
With CRSR left/right, the action menu for a selected unit is scrolled through.
With CRSR up/down, multiple units on the same field can be scrolled through.
Units can be moved either with joy/mouse or with the keys QWE, AD and YXC.
You can hide/unhide all units with U.
If the selected unit stands on a city field, you can enter the city by pressing RETURN.
In the cheat menu, press 1-7 for the different sub menus.


© Copyright 2001-2023 PROTOVISION

Donate to
Fabian Hertel
Click on the button below to visit the PayPal website and donate an amount of your choice.
Any amounts raised will directly support the development of current and upcoming projects by Fabian Hertel.
Thank you very much!