Bomb Mania


At Protovision we believe in innovation. That's why we always think one step further when it's about giving you the most enjoyable playing experience on your Commodore 64. One of the most successful game concept ever probably is Bomberman, Dynablasters or how you ever would like to call the principle of bomb-hunting. There are several versions for the C64, but Bomb Mania by Protovision sets new standards once more.

Here, more than the usual two players can fight each other in the bomb labyrinth - up to four players can take part at the same time! If you now think of complicated keyboard handling, just forget it again. You and your friends can play Bomb Mania with up to four (4) joysticks simultanously! By means of a Userport interface, which you can order together with the game or, with a little knowledge, can also build yourself, two more joysticks can be connected - and the fun can begin! And this interface is not just for Bomb Mania - it is supported by a number of other games, too: Other titles by Protovision making use of the 4 Player Interface are Tanks 3000, Hockey Mania, Team Patrol and Snacks 4 Snakes. Furthermore, some already existing games were adapted to work with the 4 Player Interface (more information here).


Minimum system requirements:
C64 or C128 in C64 mode, 1541/1571 Floppy, 2 to 4 Joysticks. The 4 Player Interface is required when playing with three or four players.

Also compatible with:
1541 Ultimate, SD2IEC, uIEC/SD, IEC-ATA, MMC Replay, MMC64, 1581, CMD FD, CMD HD, CMD RAMLink, IDE64.
This game is PAL and NTSC compatible.

Download:

A demo version of Bomb Mania is available! Spread the demo as much as you can and like. Have fun with it!


Bomb Mania offers even more than the 4 player mode: The gameplay itself was enhanced with several features which are not available in any other of the Bomberman-variants on the C64. Let's take a look at the extras: Next to more bombs and stronger explosion vehemence you can, with the right extra, deploy remote bombs (R-bombs) which can be blasted remotely. There is another extra which gives you the ability to kick bombs around just like a ball - your opponents will look quite surprised. And there's even more - the game offers eight different levels:
Mushroom Party
Mushrooms pop up everywhere that carry on the bombs' explosions and thus cause heavy chain reactions.


Ghost Attack
Some nice ghosts with R-bombs in the back-pack tend to appear here. The explosions are mostly fatal - at least to some players.


Kick It
Here every player is able to kick the bombs with their feet (without collecting the corresponding extra). The best direction for this probably would be the position of some other players.


Night Shift
Never sleep, never rest - Lay bombs at night! And train your memory, because you can see the bombs only when it flashes - and this does not happen that often!


Hide and Seek
Here you can hide wonderfully in the pipes... or place bombs inside them. But beware, the other players might do this as well!


Under Pressure
The screen is bricked up after some time. This is going to be a narrow thing really!


Crazy!
All players are fully equipped with lots of bombs and high explosion range. Good luck while trying to escape!


Just fun
This a normal round, no special happenings here. If there wouldn't be this time pressure...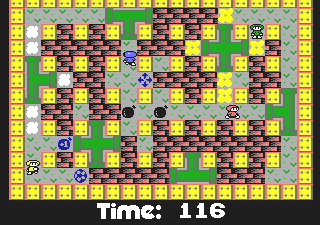 Especially with such a great game concept, graphics and sound shouldn't be just average. That's why Bomb Mania offers four nicely pixelled graphic sets within the game as well as overlay-sprites for the players, which of course are animated in many phases. A perfect fitting in-game music accompanies the action, and surprisingly, it won't get on your nerves even after hundreds of rounds. :)
Credits:
CODE: Chester Kollschen
GRAPHICS: Chester Kollschen & Stefan Gutsch (Title Picture)
MUSIC: Chester Kollschen & Matthias Deutsch (Title Theme)