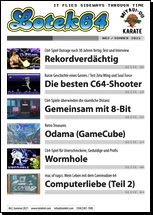 Issue 62 of the popular German language fanzine Lotek64 is out!
This issue features four (!) of our recent games: Outrage, Wormhole, Soul Force and Zeta Wing. To our delight, all titles have been well received by the editors. As a special treat, you can find a detailed interview with Bernd Buchegger, the programmer of Outrage.
Also exciting to read is the story of the creator of The Camp: mac of tugcs (part 2 of 2).
You can get Lotek64 #62 at the following link: lotek64.com.